We provide high quality sod and installation across Southern California. Our experienced team knows how to effectively deal with the challenges like dry soil, animals and bugs, and grading issues, ensuring your have a healthy and sustainable lawn that can be enjoyed for years to come.
What is Sod?
Sod, also known as turf, is a ready-made grass, that is brought over from a sod farm in a rolled shape. Growing turf on a farm allows for perfectly controlled environment, where thick, strong, and healthy turf can be created.
Fresh, healthy, thick turf around your house generates oxygen, reduces noise levels, and helps cool your house by absorbing excess sunlight.
We can get fresh sod delivered right to your yard, on the day of the job, providing us with optimal conditions to create the best turf possible around your house.
There are several factors affecting the cost of sodding a new lawn:
Project size: the larger the area to be sodded the lower will be the cost per square foot.
Quality of existing soil: depleted, clay soil requires more than just one inch of soil to be worked in. We carefully evaluate each project, and advise on soil requirements – our goal is that you install a new lawn only once, for many years to come.
Grading issues: uneven areas, or significant changes to the terrain, may affect the cost of installing a new lawn.
While our pricing schedule for sodding is quite standard, each situation is unique. We take the time to measure your property, evaluate the quality of soil, asses the level of weed infestation, critter risk, and more, to provide you with the best, most cost-effective solution.
Synthetic Turf
Artificial turf is a low maintenance landscape alternative that provides you with a perfectly green and pristine lawn through each and every season.
There are a number of benefits to choosing artificial turf.
Water-wise
Nationwide, nearly 9 billion gallons of water is being used a day for lawn maintenance. With synthetic, artificial grass we aim to lower that number.
15-year warranty
Our synthetic turf looks and feels like real grass and is built to last. We believe in it so much we have a 15-year warranty for it.
Certified lead-free
All Top Notch artificial grass products are built to be safe and are guaranteed to be lead-free making it great for your family and pets.
Though a synthetic grass lawn comes with a long list of benefits, there can be an issue of weed growth. Taking preventative measures and ensuring your artificial turf installation is done properly is important.
Though it is rare for weeds to grow back after having artificial turf installed, there are always possibilities along the edges of the turf or seams where weeds will be more inclined to pop up due to exposure.
Artificial turf is manufactured to create a beautiful landscape alternative that eliminates the laborious routines and expenses that burdens households with natural grass. Don't let those pesky weeds deter you from enjoying your beautiful synthetic grass lawn.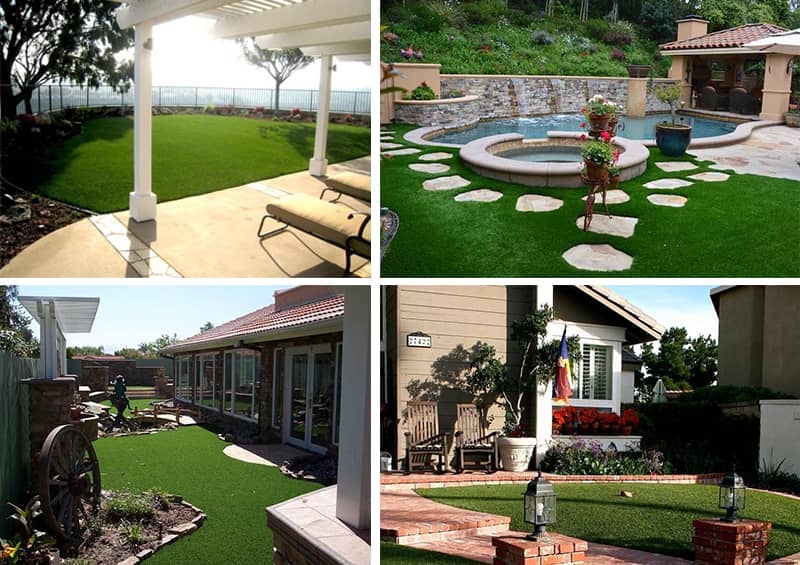 Ready for your next irrigation project?
Our professional technicians and staff are ready to help in your area!